Michael Stankowitz chose his international business major in part because he enjoys learning about the diversity of different cultures. He's learned a little diversity on the football field, too.

A linebacker for his first three years at Muhlenberg, Stankowitz made the switch to tight end for the 2001 season. He currently alternates at his new position with junior Jeff Dipple.

"[Coach Mike Donnelly] talked to me about moving after my sophomore season, but I opted to stay on defense," Stankowitz said "I thought it would work out for the best, but it ended up not going too well."

Stankowitz had a promising sophomore season, starting seven games and recording 48 tackles, good for seventh on the team. But after a junior year of playing primarily as a reserve and on special teams, "I decided it would be a good idea to make the switch."

Has it ever been a good idea. Stankowitz is third on the team with 10 receptions through six games. Two of his catches have been for touchdowns, and he had a big 29-yard reception on the drive that set up the game-tying touchdown in the closing minutes against Western Maryland.

"It's a little surprising," he admitted. "I didn't think I'd have quite the success I'm having so far. At the same time, I knew I was up to the challenge."

Production from the tight end position hasn't been a feature of the Mules' offense in recent years. Muhlenberg tight ends caught one pass in 2000, four in 1999 and three in 1998.

"Between myself and Jeff, we've proven that we can catch the ball," Stankowitz noted. "I think it's definitely a big part of the reason why our offense is doing so well this year. Having a little more diversity in the throwing game is helping us out."

Stankowitz, who was recruited as a wide receiver out of high school by most colleges, attributes his quick learning of the offense to his maturity as a player. The Muhlenberg offense was just one of the many new things he learned last semester while studying in Maastricht, Holland.

"It was great to learn about a lot of different things," said Stankowitz of the semester abroad, which included trips to Italy, Spain, France and Germany. "It made me a better-rounded individual, instead of being so narrow-minded. I never thought I'd be interested in the historical part of it, but it ended up that's what I enjoyed learning about the most."

After he graduates, Stankowitz hopes to land a job relating to his major and his marketing concentration. For now, he's concentrating on his new position.
VOLLEYBALL, WOMEN'S SOCCER MARCH TO POSTSEASON
The Muhlenberg volleyball and women's soccer teams both defeated Dickinson tonight to move closer to postseason play.
• Volleyball: Muhlenberg 3, Dickinson 1. Senior Laura Funsten recorded 39 assists and 15 digs and tied a school record with eight service aces to lead Muhlenberg (17-7, 7-2). The win put the Mules into a three-way tie for second place in the Centennial Conference with Gettysburg and Haverford. Franklin & Marshall is in first with a 7-1 mark, while Johns Hopkins is also in the hunt at 6-2.
Juniors Dana Ferrelli and Meaghan Billie combined for 37 kills to lead the Muhlenberg offense. Billie had six kills in a 30-27 win in Game 4 and added a season-high seven blocks. Sophomore Maria Poluka tied a career high with 23 digs.
Muhlenberg set a school record with 18 aces in the four-game match. Click here for box score.
• Women's Soccer: Muhlenberg 3, Dickinson 0. Sophomore Courtney Levine (right) scored two second-half goals as Muhlenberg (14-2, 8-0) extended its winning streak to 12 games and retained its hold on first place in the CC.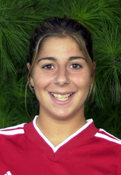 The Mules need one win in their final two regular-season games – against Washington (3-10-2, 1-6) and Ursinus (5-9-3, 2-6-1) – to clinch homefield advantage for next weekend's CC Tournament.
Sophomore Dawn Iberer broke a scoreless tie with her team-leading 13th goal of the season 17 minutes into the second half, then teamed up with freshman Rebecca Armstrong to set up Levine's first goal six minutes later. Junior Michele Zito fed Levine on a breakaway to cap the scoring.
Junior Kim Laurino made seven saves against the CC's top scoring team (2.93 goals per game coming in) to record her seventh shutout of the season. Muhlenberg is 22-1-1 in its last 24 CC games and has won 13 straight CC home games.