FOOTBALL SWEEPS CENTENNIAL FOOTBALL AWARDS
The Muhlenberg football team swept the weekly Centennial Conference honors following Saturday's 63-13 win at Hartwick, as junior quarterback Justin Jones was named offensive player of the week and senior free safety Erik Hammar was named defensive player of the week.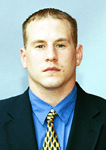 Jones accounted for 291 yards of total offense and five touchdowns to win the award for the second time this season. He rushed nine times for 115 yards, becoming the first Muhlenberg quarterback to rush for over 100 yards in a game since 1974, and scored on runs of eight and 47 yards. The latter was the Mules' longest run from scrimmage this year. Jones also completed 18 of 31 passes for 176 yards and three more scores of 10, seven and 22 yards.
Hammar set a CC record by intercepting four passes, including three in the first half. It was the most thefts by a Mule since 1942. His efforts helped Muhlenberg limit the 10th-ranked passing offense in Division III to just 18 completions in 55 attempts. Coincidentally, Hammar shared player of the week honors last year after the Hartwick game, when the Mules tied a school record with seven picks. He is tied for the CC lead with seven interceptions this season, including six in the last two weeks.
WOMEN'S SOCCER ELIMINATED IN REGIONAL FINAL
The best season in the history of the Muhlenberg women's soccer program came to an end when The College of New Jersey blanked the Mules, 3-0, in the championship game of the Mid-Atlantic Regional of the NCAA Tournament.
The Mules, who had their 17-game winning streak snapped, finish at 19-3. The top-ranked Lions advance to the quarterfinals and a matchup with No. 2 Ohio Wesleyan, the champion of the Great Lakes Regional.
TCNJ jumped on top with a goal just 5:50 into the match. The contest was played more and more evenly as the first half progressed, with the Mules getting off a pair of shots late in the period. The Lions did not permit any shots in defeating Western New England, 3-0, on Saturday.
Muhlenberg's best scoring chance came early in the second half, when TCNJ was whistled for a foul outside the penalty box, but the Mules were offside on the free kick. Several minutes later, a long, high blast from senior Jennie Vroman was saved.
Shortly thereafter the Lions, who have a 34-game winning streak and are outscoring opponents 67-0 for the season, put the game away by scoring twice in a five-minute span.
Junior Kim Laurino made seven saves for Muhlenberg, which lost by the same score to TCNJ in a regional semifinal match last year.
The Mules set school records for wins (19), shutouts (12) and longest winning streak (17) during the season.