There were many happy faces on the Muhlenberg sideline following Saturday's 42-17 season-opening win at Kings Point, but perhaps no one had a greater feeling of satisfaction than senior offensive tackle Keith Mann.

Mann, an All-Centennial Conference lineman in 1999, had just played his first game since undergoing knee surgery last October. After an unsuccessful attempt to play on his damaged knee last fall, he made the decision to take the spring semester off from school and return for his fifth year.

"I feel justified having taken a semester off and now coming back," he said after the game. "It feels great to be out there with the guys. Hanging out with them and not being able to play, that definitely hurt."

A double major in French and international studies, Mann was studying abroad in France in May 2000 when he tore his anterior cruciate ligament in a non-football accident. He played in parts of two games last season with a large brace on his knee, but "it didn't work out. I was tearing up my knee inside, so I decided to stop and have it redone and come back this year."

All did not go smoothly in training camp, however, and when Mann began to experience soreness in his knee, uncertainty creeped in. "I don't care if I only play in one game this year," he said a week before the opener. "But I have to play!"

Play he did on Saturday. Because of his missed practice time, Mann didn't start, but he did play about half of the offensive series and was part of a line that dominated in the first half. The Mules scored in all six of their possessions the first two periods while outgaining the Mariners 308-95.

"This is a great offensive line," remarked Mann. "We have six or seven guys who are top-quality linemen. That's a luxury that most teams don't have."

It was a luxury the Mules did not have in Mann's sophomore season, when he moved from defensive end to offensive tackle when injuries decimated the offensive line late in the season. The switch worked well for Mann, the last remaining link to the 1997 team that won only one game. Just like the Muhlenberg program, he's worked hard to come back strong.
Jones Named Player of the Week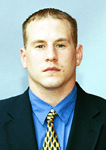 Junior Justin Jones of the Muhlenberg football team has been named offensive player of the week by the Centennial Conference.

Jones, making his first collegiate start, played like a poised veteran, passing for 208 yards and three touchdowns while also running for another in the Mules' 42-17 win over Kings Point. He scored the game's first points on a 1-yard plunge and completed 15 of 22 passes. All three scoring passes came in the first half.

After one week of play, Jones has the best quarterback efficiency rating (183.5) in the CC.

Elsewhere in the CC ...
The Centennial Conference had a good opening week of football, going 4-2. The two losses came to 2000 NCAA Tournament participants, as Bridgewater defeated Western Maryland, 29-20, and Washington & Jefferson toppled Ursinus, 16-7.

On the positive side of the ledger, Dickinson travelled to Western Pennsylvania and knocked off Grove City, 23-14, while Gettysburg won its season opener for the first time since 1997, 23-9 over Lebanon Valley. Franklin & Marshall broke its 10-game losing streak with a 26-14 win against Oberlin.

Gettysburg linebacker Ryan Moore was the CC defensive player of the week after returning two interceptions for touchdowns during a 57-second span of the fourth quarter.

For more on Centennial Conference football, go to the CC Web site at www.centennial.org.