A weekly look at what the Mules' opponents are doing:
Field Hockey: Western Maryland, Muhlenberg's opponent Saturday evening, remained undefeated at 7-0 (2-0 Centennial Conference) with a 2-1 win against Dickinson. Gettysburg opened up CC play with an impressive 4-0 blanking of Haverford. The other two teams with no losses in the CC are Washington (4-0) and Johns Hopkins (1-0). Hopkins lost a pair of non-conference games to No. 6 New Jersey (3-1) and No. 8 Mary Washington (6-0).
Women's Soccer: Four teams remain undefeated in the CC: Muhlenberg, Franklin & Marshall, Gettysburg (all 2-0) and Dickinson (2-0-1). The Red Devils played Johns Hopkins to a scoreless tie, then defeated Ursinus, 3-1, to improve their best start ever to 7-1-1. F&M is 7-1 overall after a 1-0 win against Haverford (5-3, 1-2). Swarthmore, the Mules' home opponent on Wednesday, dropped its second straight, 3-1 to Gettysburg, after a 5-0 start.
Men's Soccer: This is judgment week for Muhlenberg, as the Mules (5-1, 2-0) face games against regionally ranked Haverford (5-1, 2-0) and nationally ranked Johns Hopkins (6-1, 3-0). Franklin & Marshall is also undefeated in CC play, improving to 2-0 with a 3-1 win against Washington.
Volleyball: Haverford recorded the biggest CC win of the season so far, stunning defending champion Franklin & Marshall in three games. It was the first CC loss ever for F&M to a team other than Gettysburg or Western Maryland. The Diplomats rebounded to win their own Invitational, toppling Johns Hopkins in the championship match. Elsewhere, Dickinson went 4-0 to win the Marymount Invitational title and Swarthmore finished third at the DeSales Invitational.
FIELD HOCKEY DROPS ANOTHER HEARTBREAKER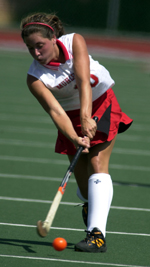 Sophomore Lauren Jacobs assisted on the go-ahead goal for her first career point.

The Montclair State field hockey team scored three goals in the final seven minutes to stun Muhlenberg, 3-2, on a rainy Monday night at Scotty Wood Stadium. It was the fifth loss of the season for the Mules, all by one goal.

After a scoreless first half, Muhlenberg opened up a 1-0 lead early in the second half when junior Holly Pico scored her second goal of the season. Senior Melissa Eicken made the pass for her 11th career assist.

The Red Hawks tied the score with 6:57 to go, but the Mules appeared to regain control when senior Sarah Stitzer took a long pass from sophomore Lauren Jacobs in front of the goal and found the back of the cage.

But Montclair State, which in its last game had upset No. 6 New Jersey, tied the score with 1:30 to play, then scored the winning goal only 38 seconds later.