MEN'S TENNIS FIFTH AT PHATTT
The Muhlenberg men's tennis team opened its fall season by going 2-1 at the Philadelphia Area Team Tennis Tournament (PHATTT), hosted by Haverford over the weekend.
Both of the Mules' wins came against Centennial Conference rivals, Franklin & Marshall and Haverford. The loss was to Division I Fordham.
Muhlenberg finished fifth out of eight teams in the final standings, but second to New Jersey among the four Division III schools at PHATTT.
Sophomore Jeff Kraft and senior Matt Fleissig teamed up for No. 1 doubles wins against F&M and Haverford, and both won their singles matches as well. Sophomore Mitchell Reading also was a perfect 4-0 against the CC teams.
Jones Named Player of the Week
For the third time in his career, Muhlenberg senior quarterback Justin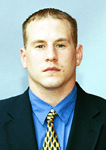 Jones has been named offensive player of the week by the Centennial Conference.
Jones was honored after accounting for 291 yards of total offense and three touchdowns in the Mules' 28-21 win at Dickinson. He threw for 259 yards and two scores, including a game-winning 44-yard strike to Kodi Shay on fourth down with 9:19 remaining, breaking a 21-all tie.
Through three weeks, Jones leads the CC in passing offense (199.7 yards per game) and total offense (219.0 yards per game).
The defensive player of the week was Franklin & Marshall safety Bill Stone, who made 14 tackles and intercepted a pass in the Diplomats' 34-10 win against Ursinus. Like Muhlenberg, F&M is 3-0, and the two teams face each other this Saturday in a matchup of the CC's best offense and best defense.
Elsewhere in the CC, McDaniel scored two fourth-quarter touchdowns to pull away from Gettysburg, 28-6, and Johns Hopkins improved to 2-0 with a 41-28 win against Rochester.