Note: The scheduled women's soccer game against Centenary was cancelled.
MEN'S SOCCER GOES TO 3-0
Senior Christopher King notched two goals for the second straight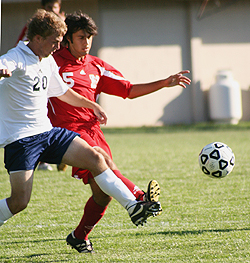 Sophomore Jonathan Kliewer battles Wilkes defender Matt Foreman in second-half action.

game, and this time it accounted for all the scoring as the Muhlenberg men's soccer team improved to 3-0 with a 2-0 win at Wilkes.

The Mules, ranked fourth in the Mid-Atlantic Region, are 3-0 for the first time since 1999 and have a 10-game unbeaten streak dating back to last year.

Fourteen minutes into the game, King took a long pass from senior Jose Ramirez, dribbled into open space at the top of the box, and blasted a shot over Colonel goalie Dominik Proctor and into the net.

King's second goal came on the third shot of a rapid-fire sequence midway through the second half. Freshman Steve Tenezapf took a hard shot that Proctor saved but could not control. Senior James Henshaw collected the rebound and ripped a shot back at Proctor, and again he deflected it back into the box. The ball bounced to King, and the third time proved to be the charm.

Muhlenberg dominated the second half, outshooting Wilkes (2-1) 13-2 in the second 45 minutes. The Mules have allowed only seven shots on goal in their three wins.