basketball season starts this weekend
One of the elite women's programs in Division III and a preseason men's All-American are among the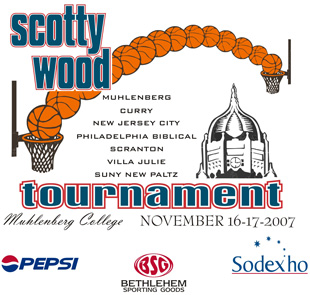 attractions when the Muhlenberg basketball teams tip off the 2007-08 season with the 26th Scotty Wood Tournament this weekend.
The Mule women, seeking their fifth straight Scotty Wood title, face a strong field in which all four teams won at least 17 games last year. The Mules (19-7 last year) open up against a Villa Julie (19-10) squad that fell in the North Eastern Athletic Conference title game and earned an ECAC Tournament bid last year.
The other first-round game matches New Paltz State (17-11) against Scranton (27-3). New Paltz set a school record for wins and competed in the ECAC Tournament last year, while Scranton reached the NCAA Tournament "Sweet 16." The Lady Royals, who have made the "Final Four" five times in the last 11 years, are ranked 14th in the D3hoops.com preseason poll.
Muhlenberg's men's team won the Scotty Wood championship in 2005 but lost to Stevens in the title game last year. The Mules, coming off a 10-15 campaign, start their season against Philadelphia Biblical (9-17).
Two teams that received ECAC bids last year square off in the other first-round game. Curry (16-14) set a school record for wins, and New Jersey City (19-10), led by fourth-team preseason All-America Dana John, won the New Jersey Athletic Conference regular-season championship.
Tournament Schedule
Friday, November 16
New Paltz State vs. Scranton (women), 1:00
Curry vs. New Jersey City (men), 3:00
Muhlenberg vs. Villa Julie (women), 6:00
Muhlenberg vs. Philadelphia Biblical (men), 8:00
Saturday, November 17
women's consolation, 1:00
men's consolation, 3:00
women's championship, 6:00
men's championship, 8:00
Check back on Thursday for basketball season previews.