horn wins second straight tourney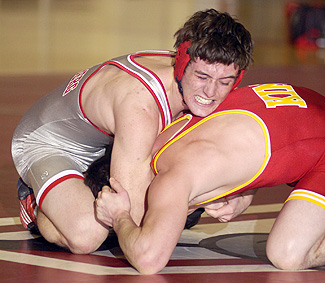 Kein reached the 50-win milestone with his 3-2 decision in the semifinals. He has a career record of 50-14.

Junior Matt Horn of the Muhlenberg wrestling team made it 2-for-2 in 2007-08, winning the 184-pound title at the Ursinus Fall Brawl.

Horn, who opened the season by winning at King's, went 4-0 with three decisions and a pin. The tournament title at King's was the first of his career.

The Mules had two other placewinners in the nine-team, non-scoring meet that featured nationally ranked New Jersey, York and Lycoming.

Junior Rob Kein advanced to the 149-pound final with four straight decisions before falling to the fourth-ranked wrestler in Division III. Junior Billy Hall won the consolation final at 141 pounds, pinning the same Ursinus opponent he defeated by major decision in the championship final at King's.
Click here for Muhlenberg box score.
Click here for complete brackets.