five men's soccer players earn cc honors
Three Named to District Academic Team
Three Muhlenberg soccer players were selected to the ESPN the Magazine Academic All-District II College Division teams.
District II College Division consists of all NCAA Division II, NCAA Division III and NAIA colleges and universities in Delaware, the District of Columbia, Maryland, New Jersey, Pennsylvania and West Virginia. To be nominated for the team, a student-athlete must be at least a sophomore with a 3.2 cumulative grade-point average and a starter or significant reserve on his or her team.
Sophomore forward Christina O'Grady was a first-team selection and will head to the national ballot for Academic All-America honors. An accounting major, O'Grady was third on the Mules with 12 points on four goals and four assists in 2007. She was a second-team All-CC pick last year.
Senior back Maura Hendsey was named to the second team for the second year in a row. Hendsey, who double majors in mathematics and economics, started every game for four years for Muhlenberg, finishing her career with two goals and three assists.
Sophomore back Samuel Hayden of the Mule men's team also was a second-team selection. A double major in economics and Spanish, Hayden has started all 15 games this season for a defense that has allowed only seven goals.

Statistically, the Muhlenberg men's soccer team had the best defense in the Centennial Conference in 2007, and the league's coaches agree with the statistics.

Two members of the Mule defense, senior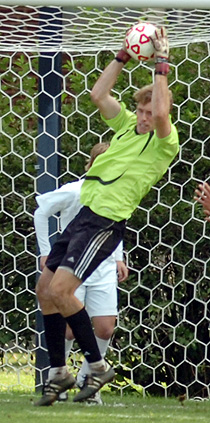 Bennett has 20 shutouts in 50 career starts. The Mules are 10th in Division III with 10 shutouts in 15 games this year.

back Jonathan Kliewer and senior goalkeeper Peter Bennett, were voted to the All-CC first team.

The senior duo led a group of five Muhlenberg players who earned conference honors. Midfielders Karim Assous, Billy Dalton and Greg Leischner all received honorable mention.

Kliewer moved up to the first team after earning second-team honors a year ago. In addition to his work on a defensive that allowed only four goals in nine CC matches, Kliewer has contributed to the offense with two goals and two assists. One of the goals, in overtime at Swarthmore last week, clinched a playoff spot for the Mules and earned Kliewer CC defensive player-of-the-week honors.

Bennett earned conference recognition for the first time. He leads the CC in both goals-against average (0.45) and save percentage (.879) in league matches and has an overall GAA of 0.48, which ranks 17th in Division III. Bennett has not allowed a goal to a CC opponent in 486 minutes.

Assous and Dalton were both All-CC honorees for the second straight year. Assous, honored as a forward last year, has two goals and two assists, while Dalton leads the team with six assists to go along with one goal. Leischner has two goals and an assist to his credit.

Muhlenberg tied for the CC regular-season title and will begin the playoffs Saturday against Johns Hopkins at 1:30 at Franklin & Marshall.