Senior Jennifer Lynch of the Muhlenberg women's soccer team is a self-professed "Disney freak," so as the Mules prepare for their first trip to the NCAA Tournament since 2003, the logical question is: What Disney movie will Saturday's game most resemble?
"Considering Ithaca's experience, I would have to say it's kind of like Mulan," said Lynch. "We are the Chinese Army and they're the Huns. They're intimidating and we are innocent with simple goals. Whereas they've been there before, we just want to continue our season."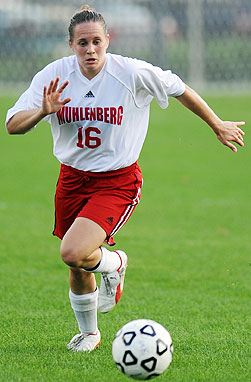 Senior Christina O'Grady has been named All-Centennial Conference all four years of her career. She is just the sixth Mule to accomplish the feat.

Before the Mules could have that chance, they first had to get into the tournament. Their loss to Dickinson in the Centennial Conference semifinals left them on the bubble, but a remarkable 7-1 finish to the season combined with sharing the CC regular-season title was enough to get them in.

Still, Lynch and the rest of the Mules (12-6) acknowledge that they will be underdogs when they head to William Smith College in Geneva, N.Y., to face No. 15 Ithaca (14-4-1) on Saturday at 1:30.

Ithaca stormed through the Empire 8 again in 2009, winning the conference for the seventh time in the last eight years. The Bombers will be making their record 20th NCAA Tournament appearance, a number matched only by William Smith, who will take on Simmons on the same field at 11:00.

No current Mule has played in the NCAAs, but Lynch thinks that inexperience will actually be an advantage.

"Having never played in the tournament, we are coming in fresh," she said. "It will make us more excited and get our adrenaline pumping."

Muhlenberg's prior experience in the tournament
bodes well for the team in Saturday's game. In all three of the Mules' previous trips to the NCAAs, they won their first game, advancing to the "Sweet 16" in 2001 and 2003.
Muhlenberg hosted at least one game in all three of those appearances, but that will not be the case in 2009. Nevertheless, the Mules are more than happy to make the nearly five-hour trip to Geneva this time around.
"We are just happy to have another game, especially the seniors," said Lynch. "The NCAAs are a great opportunity and a great experience and we're happy for that chance."
Ithaca enters the game featuring a high-powered offense. It has been shut out only once all year – by William Smith – and is averaging 2.79 goals per game. The Bombers feature the top two scorers in the Empire 8 and swept the conference's offensive and defensive players of the year and rookie of the year awards.
Muhlenberg has also been shut out just once all season, in its first game of the season, against fellow tournament participant Oneonta State. The Mules have scored in 17 straight games, their longest such streak since 2001, but defense keyed their fantastic finish, as they recorded four shutouts and allowed just three goals over their seven game-winning streak.
"We're hoping to hold them off defensively – and not just our backs, but our midfielders and forwards, too – and use our offense to our advantage," said Lynch. "We just hope they take us for granted."
A battle between a powerful, experienced group and an underestimated one? Sounds fit for a storybook ending.
Click here for the regional Web site.