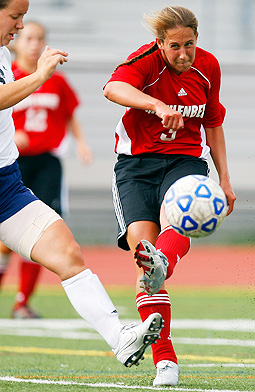 women's soccer wins first
Junior Lauren Petri (left) scored from 15 yards out with 19:03 remaining to give the Muhlenberg women's soccer team its first win of the season, 1-0 against St. Joseph's (N.Y.) at the Cougar Classic, hosted by Kean.
The Mules (1-1) dominated the shots, 26-7, but couldn't finish until their 24th shot, when Petri scored her second career goal.
Senior Kate Morrissey (right) made four saves for her 11th career shutout.
Click here for box score.