by Lacie Smith '06
Recently around campus, current event conversations have been focused not so much on the NCAA Tournament and the Oscars, but more on the United States' involvement with Iraq. There is much controversy over President Bush's decision to go to war with Iraq, therefore sparking various opinions within the college community. Six Muhlenberg College athletes, ranging in age from freshmen to seniors, were asked to share their thoughts on the current war.
Anthony Strachan, a senior men's basketball player from Portland, Ore., said that he felt "quite strongly" about the United States' intervention in Iraq. Strachan said that he backs President Bush's decisions and thinks Americans should try and put their trust behind the President. He also believes that "President Bush gave Iraq numerous chances to cooperate with the U.N. inspectors and to disarm," but their refusal forced American action. "It's important that Saddam Hussein is removed from office. Hussein poses a threat not only to America, but to many other Middle East nations," Strachan remarked.
Robert Ascrizzi, a senior from Manhasset, N.Y., and a member of the track team, was also in support of America's invasion of Iraq. "As long as casualties can be limited and things get accomplished, the war can only be a positive thing for our world," commented Ascrizzi. He does not think that Iraq is a direct threat to the United States at the current time, but isn't sure about the future. "I feel that it is only appropriate for the United States to take action and make sure that Iraq disarms," Ascrizzi added.
Gwen Doyle, sophomore women's basketball player from Pattenburg, N.J., commented that, "war is a necessity to get rid of Saddam Hussein." Doyle thinks that there could possibly be better ways to go about régime change in Iraq, but feels that some action needs to be taken. "At this point in time, I don't think Iraq poses a threat to us," she stated.
Mike O'Malley, a freshman member of the men's lacrosse team from Wilmette, Ill., had different opinions depending on the aspects of war under consideration. "I am for U.S. protection, but against the U.S. taking defense abilities away from other countries. I am for a régime change, but against fighting the war over the 'oil cause.' I am for democratic imperialism, however I don't necessarily feel that Iraq has a culture that will accept this kind of governing," O'Malley remarked. He also explained that he thinks President Bush is doing a "good job" with his decisions concerning the war. O'Malley went on to say how the media criticize every little mistake that Bush makes and turns them into big ordeals, making it seem as though the President isn't doing his job properly. "I do feel threatened by Iraqis because they will do almost anything to defend their country," he commented.
Senior softball player Meghan Woods, from Teaneck, N.J., was totally opposed to the war. "George Bush is not diplomatic through his processes," Woods commented. She thinks that war is not a final resolution and it is absurd to go into war without strong allied support. "At the current time, North Korea poses a bigger threat to the United States than Iraq does," she stated. Woods said that if it was up to her, she would simply let the U.N. inspectors continue their work and try to find a better resolution to the overall problem. "Terrorist groups that hate America come from all over. Iraq should not be our main focus," she concluded.
Emily Gargula, a junior field hockey player from Huntingdon, Pa., offered a unique perspective on the war, as she is studying in Australia, whose commitment of troops has been very controversial. "Muhlenberg has asked us to remain relatively low-profile and avoid too much war discussions or debates, just to be on the safe side because you never know who you are talking to," she e-mailed. "People are interested in the American students' personal opinions, but I would say that the majority of people are strongly opposed to the war. Last weekend I went to Sydney with some friends and we could still see people cleaning the graffiti that protestors wrote saying 'NO WAR' on the side of the highest sail of the Opera House. Personally, I am proud of all of the American and Australian efforts in the war, and I believe in and support our government's decisions."
As America continues its wage in Iraq, the hearts of every Muhlenberg athlete go out to the men and women who are putting their lives on the line to ensure the safety of our nation. No matter what opinions are held of President Bush or the overall war, everyone has the same hope of universal peace in mind.
Strachan
Ascrizzi
Doyle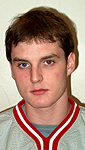 O'Malley
Woods
Gargula