SEASON PREVIEW
BASEBALL SEEKS RETURN
TO CHAMPIONSHIP SERIES
Mules Open Season Early on Thursday
Because it lost two of the top players in the Centennial Conference, the Muhlenberg baseball team might not be expected to return to the CC championship series for a third-straight year in 2004.
But expectations already have been proven wrong. In spite of a snowy winter, the Mules will likely open their season as scheduled with their earliest home game ever, against Moravian on Thursday. The next day, they will depart for a nine-day, eight-game trip to Clearwater, Fla.
Muhlenberg will pursue its third-straight 20-win season with a slightly different makeup.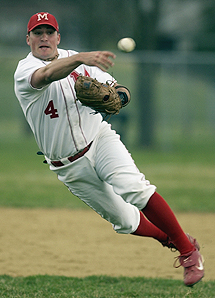 Long was second in the CC with 25 walks and had a .468 on-base percentage last year.

The team's 21-14-1 record last year (its best since 1976) owed much to an offense that averaged 7.50 runs per game and ranked fourth in Division III in stolen bases. But the Mules graduated the first three hitters in their lineup, two of whom were first-team All-CC selections and combined for 63 of the team's 115 swipes.

"Any time you lose two players of that stature, it's going to make an offensive impact," said senior catcher Adam Sadler, who is serving as the team's captain. "It's up to the rest of us to step up. I think if we all step up and play our roles we can begin to compensate for their loss."

Muhlenberg can also make up for its lost offense with good pitching. The staff returns its entire starting rotation intact, and has added several new faces who Sadler feels will see their share of innings this year.

Junior Gregg Burkhart established himself as the staff ace last year, going 5-2 with a 3.39 ERA to earn All-CC honorable mention. He whiffed 70 batters (the third-highest season total in team history) and was 26th in Division III in strikeouts per nine innings (10.3).

Fellow southpaw Chris O'Connor, the only senior on the pitching staff, led the Mules in wins with a 7-2 record and had a 4.50 ERA. Junior Matthew Cooper won a spot in the rotation midway through the season
CC Preseason Poll

| | | |
| --- | --- | --- |
| school (#1 votes) | 2003 record | points |
| 1. Johns Hopkins (8) | 34-7 | 79 |
| 2. Ursinus (1) | 22-12-1 | 70 |
| 3. F & M (1) | 17-17 | 58 |
| 4. Muhlenberg | 21-14-1 | 54 |
| 5. Gettysburg | 16-17-2 | 52 |
| 6. Haverford | 19-14-1 | 48 |
| 7. McDaniel | 18-11-1 | 43 |
| 8. Dickinson | 7-19 | 24 |
| 9t. Swarthmore | 5-22 | 15 |
| 9t. Washington | 3-24 | 15 |
and pitched better than his 1-3 record. Junior Aaron Regensburg, a two-year veteran of the starting staff, was 3-1 with a 2.97 ERA in CC games.

The biggest challenge for the pitching staff is finding a new closer to replace the program's career leader in saves.

Although the offense will have a new look, it will not have to start from scratch. Junior C.J. Kessler will probably move to the leadoff spot after a breakout 2003 season in which he hit .353 with 17 RBI and 10 stolen bases. He also will help out the pitching staff with his good range in centerfield.

Junior shortstop Matthew Long also opened eyes last season, starting the campaign as Muhlenberg's No. 9 hitter and ending it batting cleanup. He earned All-CC honorable mention for hitting .342 with 11 doubles, 19 RBI and eight stolen bases.

Sadler, a second-team All-CC selection, hit a career-best .280 with 20 RBI and will share time at catcher with fellow senior Joel Rush (16 RBI). Sophomores Brian LaRochelle (19 RBI) and Matt Tobia (14 RBI) return at first and third base, respectively, and Regensburg will also compete for playing time in the infield.

"Our team is well-rounded, very strong and has a lot of energy," concluded Sadler. "We're expecting to be in the championships again this year."