The biggest win in Muhlenberg men's lacrosse history to date brought with it a pair of program-altering firsts – and a mild case of déjà vu.
Just as they did against Washington 11 days ago, the Mules beat a team they had never beaten in Centennial Conference play in overtime, taking down No. 13 Haverford 10-9.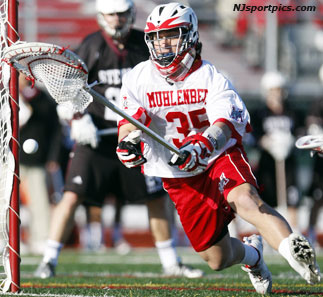 Three of Horowitz's saves came in the final four minutes of the game.

And they did it in nearly exactly the same fashion. Muhlenberg (3-2, 2-1) overcame a devastating tying goal with less than a minute left, won the opening faceoff of overtime and prevailed on a goal from sophomore Alex Ardolino shortly thereafter.

Only this win may have meant just a little more. It avenged an overtime loss to the Fords last season and was the program's first ever against a nationally ranked team.

"This just shows that we're a force now in the conference and in the country," said Ardolino.

Freshman Ian Jones helped show that by being a force in the "X" all game long and coming through when it mattered most. Jones won the overtime faceoff, finishing a perfect 9-for-9 on draws, to put the Mules in position to win.

And once again, Ardolino made sure they did, coming from behind the net and beating the goalie one-on-one for his career-high fifth goal of the game.

Ardolino's offensive outburst gave him nine goals for the season, tops on the team.

"I got lucky. I got a good pass behind the goal and was at the right place at the right time," he said. "I had a clean look at the cage and it went in."

Early on it was Haverford (4-4, 0-2) that was putting shots into the cage, as it took a 2-0 lead. But Muhlenberg responded with a huge run, netting four straight – with Ardolino sandwiching two goals between one from senior Ari Jacobson and one from sophomore Corey Aferiat – to take a 4-2 lead.

The Fords responded with a four-goal run of their own, only to give up four more unanswered to the Mules beginning late in the third quarter. Ardolino scored with 1:06 to play in the period, and sophomore Chase Nadell found the back of the net just 10 seconds into the fourth to tie the score.

Aferiat and sophomore Clint Watkins capped the run before Haverford pulled to within one. Ardolino's fourth goal gave Muhlenberg a 9-7 lead with 3:16 left, but the Fords wouldn't go away. They scored just 46 seconds later and tied the game with 15 seconds remaining.

"It's tough when it's back-and-forth like that, but you just have to keep fighting," commented Ardolino. "Our defense and goalie played well and we got a lot of good shots."

None bigger, of course, than his game winner 1:59 into overtime, which brought the Mules onto the field for a frenzied celebration for the second time in three games.

"Everyone was so pumped up about beating them for the first time and beating a nationally ranked team," noted Ardolino. "Everyone went wild."

Watkins and senior Al Carpetto each had an assist for Muhlenberg, and Jones picked up a team-high six ground balls. Junior Mike Horowitz played well between the pipes, stopping nine shots.
Click here for box score.
Click here for complete stats