field hockey makes the grade
The Muhlenberg field hockey team was recognized by the National Field Hockey Coaches Association (NFHCA) for its academic achievements twice this week.
As a team, the Mules received the National Team Academic Award for compiling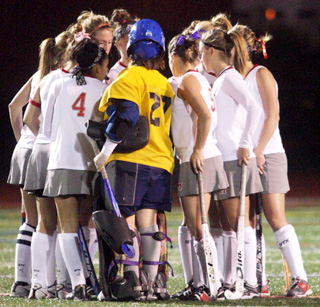 a minimum GPA of 3.0 during the first semester of the 2009-10 academic year.
In addition, nine players were named to the National Academic Squad for having a cumulative GPA of 3.30 or higher through the first semester.
The players honored were:
Tara Cohn

Brittany DeAngelis
Courtney DeAngelis
Kristen Dornenburg
Nicole Fiorentino
Nicki Notarianni
Kristen Sabia
Shelby Smith
Caitlin Teegarden
Cohn and Sabia were named to the squad all four years at Muhlenberg.