women's basketball falls in first round

Chili ended the season with 471 points, second all-time at Muhlenberg and just nine shy of the school record she set as a freshman.

A slow start doomed the Muhlenberg women's basketball team in the opening round of the NCAA Tournament, as the Mules trailed big early and could never climb all the way back in a 71-59 loss to Tufts.

The loss ends Muhlenberg's season at 21-6. Though the 2009-10 squad did not advance as far in the NCAAs as last year's, it became the first in Muhlenberg women's basketball history to earn at at-large bid to the NCAA Tournament and the first to win 20 games in three consecutive seasons.

"Just to make it to the tournament is an accomplishment," said senior Kaitlyn O'Malley. "We set goals at the beginning of every season and we did a good job with them.

"It was a sad end to a happy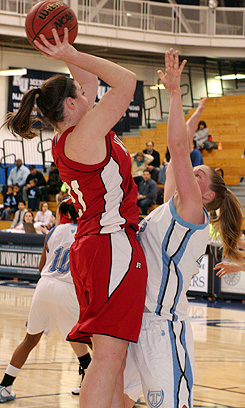 Cook and fellow junior Kelly McKeon, who had eight points and seven rebounds, are the first players in team history to participate in the NCAA Tournament three straight years.

season," she added.

The Mules struggled mightily to open the game, making just one field goal in the first 6:51 and falling behind 18-3. A pair of free throws by sophomore Alexandra Chili cut the deficit to nine at 23-14, but the Jumbos (21-5) responded with a 7-0 run. Chili drained a three with 45 seconds left before halftime to make it a 12-point game going into the break.

Muhlenberg opened the second half hot and used a full-court press to try to claw back into the game. Chili hit another triple to cut the lead to seven at the 15:11 mark, and then, after Tufts responded with a jumper, sophomore Kathleen Naddaff fought through a double team and made a great pass to senior Maiza Mock for a layup.

A Chili layup off an inbound cut the deficit to five, and a pair of free throws by junior Kelly McKeon after a brief Tufts run again made it five, this time at 50-45. But that was as close as the Mules would get, as the Jumbos eventually went on a 10-1 run to put the game away.

"We came out in the second half like we wanted to," said O'Malley. "We wanted to run and press and make them play at our tempo, and we did. They did make another run, but we were happy with the way we played."

Junior Sheila Cook led the Mules with 20 points, and Chili finished with 18 points and seven rebounds.

Muhlenberg's four seniors – O'Malley, Mock, Alexis Bates and Brenna Ferster – ended their careers with a record of 87-24, the second-most wins by a class in team history, two Centennial Conference championships and three straight trips to the NCAA Tournament.

"It's been so much fun," said O'Malley. "All four years we've grown together, and I've had the time of my life. These girls are my best friends, and to have experienced this with them has been so special."
Click here for box score.
Click here for complete stats.