YEASTED, CARTER LEAD MULE WRESTLERS AT MESSIAH
Junior Nate Yeasted and sophomore Josh Carter both earned top-four finishes to lead the Muhlenberg wrestling team to a seventh-place finish at Messiah's Petrofes Invitational.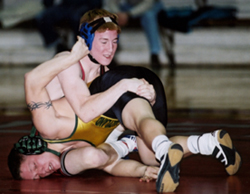 Yeasted (above), who was seeded fourth at 133 pounds, finished third. After losing to the top seed in the championship semifinals, he rebounded to decision the No. 2 seed in the consolation final. Yeasted's 5-1 record at the tournament included a pin and a major decision and gave him 51 wins for his career.
Carter, the third seed at heavyweight, went 3-2 to finish in fourth place.
Also earning places for the Mules were freshman Jeremy Hart (sixth at 133), junior Joe Salerno (sixth at 157) and freshman Dylan Moulton (eighth at 141).
Hart, who was unseeded, lost twice to the second seed, once by two points and the second time by one point. He upset the fifth seed en route to a 4-3 record for the tournament.
Muhlenberg was competing without the services of nationally ranked senior 149-pounder Bill Holsinger, who was injured in the Kutztown match.
Women Improved to 6-0; Men Narrowly Miss Upset
The Muhlenberg basketball teams split their Centennial Conference-opening doubleheader against the nationally ranked visitors from Franklin & Marshall. The Mule women extended their best start since 1975 to 6-0 with a 77-55 win, but the men could not close out their upset bid and suffered a 66-63 loss.

• Women's Basketball: Senior Lindsay St. Lawrence and freshman Gwen Doyle combined to make seven of eight three-point attempts
St. Lawrence dribbles the ball up against the Diplomats' Lauren Howanski.

as Muhlenberg scored its third win of the season against a team that has received votes in the d3hoops.com national Division III poll. Franklin & Marshall (3-3) entered ranked 28th.

The Mules forced 22 turnovers in the first half, several in the final three minutes, when they went on an 11-0 run to break open a tie game. Muhlenberg led, 39-28, at halftime and maintained a double-digit lead throughout the second half.

St. Lawrence and senior Jenn Risley led five players in double figures with 14 points apiece. Doyle scored a career-high 11 points and helped jump-start an offense that didn't score a field goal the first five minutes of the game.

Sophomores Becky Richmond and Jill Friedman scored 10 points apiece, with Richmond adding 10 rebounds for her third double-double. Junior Randi Baran had five assists with no turnovers.

The victory extended the Mules' school-record home winning streak to 13. Click here for box score.

• Men's Basketball: Three times in the last seven years, the Mules defeated a Franklin & Marshall team that was ranked in the national top 10. They nearly did it a fourth time.

After the fourth-ranked Diplomats scored the first five points of the game, Muhlenberg went on a 12-0 run. From that point on, F&M never had a lead bigger than two points until there were 9 seconds left.

The Mules, who led by as many as 10 points, took a 60-51 lead with 3:50 to play on senior Bill Cwieka's third three-pointer of the game, but were outscored 15-3 the rest of the way. Junior Toomey Anderson hit one of two free throws with 54 seconds left to give Muhlenberg its last lead, 63-62. Diplomat All-America Alex Kraft, who scored 18 of his 20 points in the second half, hit a game-winning three-pointer with 29 ticks left.

After a Muhlenberg turnover, F&M made one free throw, but the Mules could manage only an off-balance three-point attempt at the buzzer.

Senior Mark Lesko had 20 points and 11 rebounds for his first double-double of the season and also added a career-high five steals. Anderson scored 13 of his career-high 16 points in the first half.

The Mules held the Diplomats 14 points below their CC-leading scoring average and outrebounded them, 37-29. Click here for box score.