MEN ROLL TO BIGGEST WIN OF SEASON
Senior Mark Lesko recorded his 12th double-double of the season with 14 points and 10 rebounds as the Muhlenberg men's basketball team routed Swarthmore, 75-44.
The win, combined with Gettysburg's 67-66 defeat of Ursinus, clinched the Centennial Conference East Division championship for the Mules (18-5, 9-3). Muhlenberg will close out its regular season Saturday against Ursinus and then host a CC semifinal game on Wednesday against an opponent to be determined.
The division title is the Mules' eighth (outright or shared) in the nine years of the CC.
Muhlenberg led from start to finish en route to its biggest margin of victory of the season. The Mules held a 41-18 advantage at halftime, holding the Garnet (5-19, 1-11) to only six first-half field goals.
Joining Lesko in double figures was junior Anthony Strachan, who notched 10 of his 12 points in the first half. Senior Michael Barletta and freshman John Jemmott had nine points apiece, and junior Toomey Anderson blocked four shots.
Women Exact Revenge for First Loss
Sophomore Susan Marchiano led a balanced scoring attack with 16 points as the Muhlenberg women's basketball team took over first place in the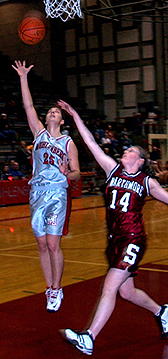 Junior Randi Baran scored two of her six points on this layup late in the second half.

Centennial Conference East Division with a 70-45 win against Swarthmore.

The Mules (20-3, 12-2) hold a one-game lead over the Garnet (18-6, 11-3) with one game remaining in the regular season and must defeat Ursinus on Saturday to clinch the top seed in the East and a home playoff game. The division title (shared at least) is the sixth in seven years for the Mules.

The victory gave Muhlenberg 20 wins in a season for the first time in program history. The Mules also set a school record with their 12th home win of the season and avenged their first loss, a 65-53 setback at Swarthmore on Jan. 19.

Muhlenberg's relentless pressure defense forced 19 first-half turnovers. The Mules took a 30-18 lead into the locker room and then outscored the Garnet 17-6 to start the second half, opening up a 23-point lead.

Katie Robinson and Heather Kile, the top two scorers in the CC, both recorded double-doubles and combined for 33 points, but the rest of the Swarthmore team scored just 12. Muhlenberg, by contrast, had seven players score at least five points. Of the 12 Mule players who got in the game, 10 scored points and 11 recorded assists.

Sophomore Becky Richmond and freshman Gwen Doyle scored 10 points apiece. Sophomore Jill Friedman had three blocked shots to help the Mules tie a school record with 76 blocks on the season.

Swarthmore has never won in 19 trips to Memorial Hall.