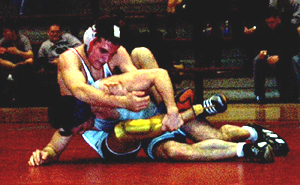 The Mules built a big lead against NYU on the strength of pins by Gibson (above) and Barrett
Junior Brendan Barrett, senior Nate Yeasted and freshman Dale Mills all went 2-0 as the Muhlenberg wrestling team split a home tri-match in its first competition in a month.

The Mules (2-1) defeated New York University, 27-20, but lost to 12th-ranked Delaware Valley, 42-12.

Muhlenberg had a 21-8 lead after six bouts against NYU, as freshman Chris Gibson pinned his opponent at 165 and Barrett, the heavyweight, recorded the fastest pin of his career (1:17).

A forfeit and a pin by the Violets cut the advantage to 21-20, however, and the win was not secure until Mills recorded a 14-11 decision at 149 in the final bout of the match. Mills, who leads the Mules with 14 wins, trailed 7-6 in the second period with a riding-time deficit of more than two minutes, but scored a reversal and three-point near-fall late in the period to take command.

The win was the first ever by Muhlenberg against NYU.

Delaware Valley, which had earlier defeated NYU, 42-10, notched five pins in the nightcap. The Mules' first points came from Barrett, who battled a wrestler who outweighed him by 53 pounds to a 1-1 stalemate. After a scoreless overtime period, Barrett won the flip for the rideout and chose the down position. He escaped in 12 seconds for his 12th win of the season.

Muhlenberg won the final two bouts, as Yeasted pinned his opponent with three seconds left in the first period at 141, and Mills scored three reversals in a 13-6 decision.