REED NAMED TO ALL-AMERICA FIRST TEAM
Bernardo Receives Honorable Mention
Senior kicker Chris Reed of the Muhlenberg football team has been named a first-team Division III All-American by the American Football Coaches Association.
Reed is the first Mule to be named to the AFCA team – the only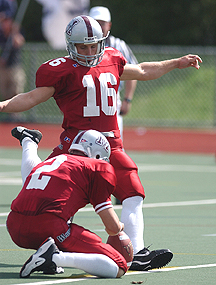 All-America team chosen by coaches – since wide receiver Rob Lokerson in 1993. He is the first placekicker in program history to earn All-America honors.
Reed, also named to the Hewlett Packard All-America first team (chosen by sports information directors), had a Division III-leading 16 field goals, including seven from 40 yards or more, with a long of 49. He also converted 49 extra points in 51 attempts. Reed set school records for kickers for points in a game (18), season (97) and career (202); PATs in a season (49) and career (124); consecutive PATs (38); and field goals in a season.
As a member of the AFCA All-America team, Reed was invited to play in the Aztec Bowl in Torreon, Mexico, last Saturday. He kicked an extra point in his lone attempt in the United States' 15-9 win against a team of Mexican college all-stars.
Junior running back Matt Bernardo received honorable mention on the Hewlett Packard All-America team. He rushed for 1,393 yards and 17 touchdowns, caught 32 passes for 340 yards and four touchdowns and returned 14 kickoffs for an average of 31.4 yards with one touchdown.
Bernardo rushed for at least 100 yards in nine of the Mules' 12 games and broke his own school record with 22 total touchdowns. He also became the program's all-time leader in rushing yards (3,140), rushing touchdowns (50), total touchdowns (57) and points (342) during the season. Bernardo ranks 11th in Division III in scoring and all-purpose yards and 30th in rushing.
Muhlenberg finished the 2002 season with a record of 10-2, tied for the Centennial Conference championship and advanced to the second round of the NCAA playoffs. This is the fourth straight season that the Mules have had at least one player named to an All-America team.