EARLY HOLE, THREES DO IN MEN
The Muhlenberg men's basketball team spent the whole game swimming upstream against Washington and could never catch up, falling 97-86.
The Shoremen (4-4, 3-1) sprinted out to an 11-1 lead after just two-and-a-half minutes, and the Mules (5-3, 1-3) closed to within five only once, late in the first half. The margin reached double digits again in the first two minutes of the second half and remained there except for three occasions when Muhlenberg cut it to nine.
Washington kept Muhlenberg at arm's length by making 11 three-pointers, going 8-of-12 from long range in the second half. Not even a 10-minute delay when power to the scoreboard was lost midway through the second half could slow down the hot shooting.
Oddly enough for a game in which they gave up 97 points, the Mules broke one school record and nearly tied another – both on defense. Junior Jeff Stewart set a school record with eight blocked shots. The previous mark of six had been set seven times previously, once by Stewart himself last year. He also had 22 points and 13 rebounds for his fifth double-double of the season.
As a team, Muhlenberg recorded 16 steals, one shy of the school record achieved three times, most recently 11 years ago.
Stewart was one of five Mules in double figures. Junior Justin Fields scored a career-high 14 points on 6-of-7 shooting in only 11 minutes. Junior Tom Scott notched a season-high 16 points, and senior Jimmy O'Brien had 10 points and nine rebounds. Junior Chris Huber added 11 points off the bench.
Women Breeze to Third Straight Win
Freshman Lauren Boyle scored 10 of her game-high 12 points in the first six minutes as the Muhlenberg women's basketball team won its third game in a row, 75-34 at Washington.
The Mules (7-1, 3-1) led 9-0 two minutes into the game, 27-8 midway through the first half and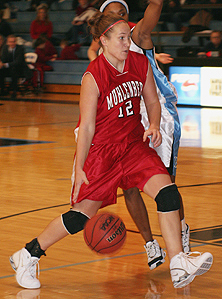 Senior Kristen Piscadlo had seven assists for the second game in a row, moving into second place on the Mules' all-time list with 306 for her career. She is averaging 5.75 assists per game this year and has an assist-to-turnover ratio of better than two-to-one.

by 30 points in the final minute of the half in cruising to their largest margin of victory of the season.

Senior Lacie Smith and junior Meghan Courtney each added 10 points, and senior Tiffany Kirk contributed nine to a balanced attack that featured 12 players in the scoring column. No Muhlenberg player was on the court for more than 17 minutes.

The 41-point win was in sharp contrast to the Mules' last four contests, all of which were tightly contested well into the second half.

"Every game we played this week has been difficult mentally," said senior Valerie Robuck, who scored a season-high six points to go along with three rebounds, two assists and a steal. "Coming out so strong helped us relax and just have fun."

The timing of the team's three-game week contributed to the stress. Although final examinations begin on Monday at Muhlenberg, many team members had papers and take-home finals due this week.

"Several girls have been pulling all-nighters," noted Robuck. "We all know that academics come first, but when we step on the court we're all business."

The Mules hope they do as well on their schoolwork as they did on the court, acing the three games with a combination of stingy defense and solid offensive execution. They allowed an average of 46.0 points in the three games, and the 34 they gave up to the Shorewomen (1-7, 1-4) represented their best defensive showing in five years.

Offensively, Muhlenberg shot 60 percent from the field in the first half (4-of-4 from three-point range) against Washington and recorded assists on 23 of its 29 field goals.

The Mules also had a 46-29 advantage on the boards, with freshman Bethany Enterline leading the way with a career-high seven rebounds.